Infinix has announced the release of its new NOTE 30 Series in Nigeria, which includes the NOTE 30 Pro, NOTE 30 5G, and NOTE 30.
This latest offering from Infinix features the brand's hallmark charging capabilities, with an improved All-Round FastCharge solution that can reach up to 68W wired and 15W wirelessly.
In addition, the NOTE 30 Series boasts a smooth and responsive 120Hz refresh rate display and an ultra-clear triple camera system with lenses up to 108MP.
Furthermore, Infinix has partnered with JBL for upgraded tuned sound, and created Ultra Powerful Signal technology, offering users incredible performance and efficiency like never before on an Infinix device.
"At Infinix, we designed the NOTE series with the aim of providing users with a powerful phone that can keep them connected to the world, anytime and anywhere," said Liang Zhang, Deputy General Manager.
"To achieve this, we developed the first-ever All-Round FastCharge solution, which not only delivers speed but also ensures safety, intelligence, and flexibility. With this solution, users can take charge of their lives in all scenarios, 24/7.
"All devices have a premium display, ultra-clear camera, JBL-tuned sound system and advanced connectivity capabilities. We are confident that the NOTE 30 Series is a top choice for power users seeking an unbeatable value."
The Fast Charge Revolution
Infinix's NOTE 30 Series come packed with groundbreaking new charging innovations. The NOTE 30 Pro features 68W All-Round FastCharge, which can charge its 5000mAh battery from 1% to 80% in just 30 minutes. It also supports a 15W wireless FastCharge, a first in its price segment.
The NOTE 30 and NOTE 30 5G support a 45W All-Round FastCharge which rapidly power up the devices on the go. All models have unparalleled durability, exceeding the industry average by withstanding 1,000 full charging cycles while retaining 80% of its energy.
The NOTE 30 Series introduces Infinix's all-in-one solution for charging. Reverse Charge enables the device to work as a power bank for other devices in emergency situations.
Bypass Charge filters the current to supply power directly to the main board, which controls the phone's temperature, resulting in an average temperature drop of 2℃ – 7℃[2].
These advances in temperature control keep the device cool, allowing users to charge and play games simultaneously.
The series also includes Intelligent Power E-IQ further advancing the charging experience with AI algorithms and security measures that protect users from overcharging.
Finally, PD 3.0 is fully supported, allowing the charger to fast charge other smart devices alongside the user's NOTE 30 Series device.
The Perfect Companion for Mobile Entertainment
The NOTE 30 Series portfolio of devices features a 120Hz refresh rate display that benefits from Infinix's Smart Refresh and Magellan Engine.
These features enable the device to adjust its refresh rate based on the user's scenario, providing a smoother experience while consuming less power.
Whether gaming or watching videos, the NOTE 30 Series' display enriches the viewing experience. Moreover, all models include an eye-care mode with TUV Rheinland Certification, which protects users' eyes during extended screen time.
Infinix's NOTE 30 Pro offers a viewing experience like no other. The 10-bit AMOLED display has a peak brightness of 900 nits, a 5,000,000:1 contrast ratio, 1920Hz PWM Dimming, and 360Hz Touch Sampling Rate.
This means users can expect a responsive, vibrant display in every situation. The ultra-thin bezels and stereo dual speakers, which are sound by JBL and certified by Hi-Res, make the NOTE 30 Series an industry standout for its audio capabilities
Capture With Clarity
Infinix is proud to announce that the NOTE 30 Series features an impressive triple camera system. The Infinix NOTE 30 Pro and NOTE 30 5G come with a whopping 108MP ultra-high pixel primary camera that captures every moment with maximum sharpness and crystal-clear transparency.
Meanwhile, the NOTE 30 model is equipped with a 64MP primary camera to cater to different user needs. Additionally, all three devices feature automatic color gradation technology to enhance image quality when under backlighting and glare conditions.
The camera capabilities of the NOTE 30 Series are further enhanced with features such as Dual View Mode, which allows users to capture moments with both front and rear-facing cameras simultaneously. L
Sky Remap adjusts the sky in photos, while the Street Photography Filter helps users master the art of street photography. With all these features, users can capture stunning images that meet their exact specifications.
Moreover, the NOTE 30 Pro's 32MP selfie camera with Style Makeup helps users show off their multi-faceted personality.
Additional Key Features
– The NOTE 30 Series boasts an impressive 8GB+256GB of memory, with an Extended RAM technology upgrade of 8GB+8GB (equivalent to 16GB) for superior multitasking performance and storage capabilities.
– Running on XOS 13 built on Android 13, the NOTE 30 Series delivers a sleek user interface, new sound design and motion graphics. XOS 13 also offers upgraded PC connection 2.0, Lightning Multi-Window, and Notepad features, ensuring a personalized and intuitive experience.
– With the NOTE 30 Series' Multi-Functional Near Field Communication (NFC), users can enjoy the convenience of short-range wireless technologies, making it possible to share payloads of data such as transit passes or charge to credit cards.
Pricing and Availability
The NOTE 30 Pro will cost N175,900 and is available in Classic Black or Variable Gold with a sleek and durable glass back cover.
The NOTE 30 5G and NOTE 30 will cost N146,500 and N120,900 respectively, and will be available in Classic Black, Interstellar Blue, or Sunset Gold. The Note 30 Series is available at all Infinix authorized retail outlets across Nigeria.
For more information about the Infinix Note 30 Series, go to ng.infinixmobility.com and follow @infinixnigeria on social media.
Infinix Note 30 Pro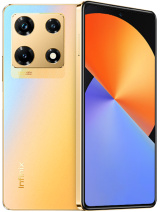 Released 2023, May 22
205g, 8.5mm thickness
Android 13, XOS 13
128GB/256GB storage, microSDXC
24%81,707 HITS
6.78″1080×2460 pixels
108MP1440p
8/8GB RAMHelio G99
5000mAhLi-Po